God bless Mack and his esoteric leanings.
Sometimes, when the world all feels a bit heavy, Mack will me a lead to let my brain start to soar in the right direction once again, even if it stops me from doing what I'm supposed to doing.
Today was what I refer to as a 'meh' day. Went into work early to go for a run, but there was something in me saying don't do it. I spent 45 minutes in the gym instead. Burned 300 calories doing a gentle cardio routine, which did feel good, but it would have felt better if I was schlepping around the Tan, wind in my ponytail, pink geek t-shirt flapping in the breeze.
As the project I'm on is ramping down and it looks like there's about a month of work left here, the atmosphere is pretty dire. Making it somewhat worse, I'm not sure what I will be doing for work after mid-October. The rest of my team have moved on - Jonella went on Friday back to the bench at the consultancy, May Chang is now upstairs on another project and Hot Scouser has moved on to new projects in other companies. This leaves me with the Project Manager, who's busy on other things and interactions with another manager, who has a bit of a "nails-on-the-blackboard" effect on me.
As I said. It's a "meh" day, so much so that there was some consideration to feign a migraine. However, the documentation is not going to go away. The manager with the voice like a broken beer bottle isn't going away either. And I need to get on with the next round of work so I might get moved on.
Added to this, I'm using every fibre of my being not to go to the honesty box and buy a packet of licquorice bullets and inhale them. So far, I've resisted and had one manky biscuit from the bikkie tin instead. Why do workplaces always supply milk arrowroot biscuits? They taste like cardboard.
Thing is, yesterday was marvellous. Had a great lunch with Alice, got my major document in for review, had fun on a training course at the consultancy. The icing on the cake was a text from another old university friend asking if I was free for coffee in the afternoon. Pip is an absolute marvel. It was a lovely afternoon and popped across the road for a chat for half an hour. Pip's done amazingly well for himself through hard work and a keen brain. Best of all, rather like me, Pip's dropped a staggering amount of weight and looks the best he's looked in his life. It was lovely to be greeted with a peck on the check and a mutual comment of "Where the hell is the rest of you?" Meeting up with him really made my day.
Today, on the other hand, really is one of those days.
So I'm left taking myself off to my happy places in between editing sections of these stupid documents.
Anything to make life a little more tolerable today.
A friend emailed me to tell me how he went surfing before work. The waves were dreadful but he reckons spending ten minutes a stones throw from a large pod of dolphins was pretty cool. That sounds pretty amazing to me. That was a nice place to go, sitting out in the ocean, cavorting with a heap of sea mammals. Rather like dolphins, not that I've ever been that close to one. The nearest I reckon I've been to a dolphin was when we went on the beer club fishing trip. There was one that kept hanging around the boat like a labrador at the dinner table.
I have my old and friendly ohrwurm to keep me company too. The "ohrwurm" or ear worm is the German term for the song that gets stuck in your head and drives you insane. Thankfully my ear worm isn't making me go batty - it's keeping me from going mad in the near silence of the office.
Today's song is an old favorite of mine that happily keeps me company. Deborah Conway's "Alive and Brilliant". Deborah Conway is, in my lowly opinion, one of the best female recording artists to come out of Australia. Completely underated. She's also responsible for one of the best taglines out of a song - another "ohrwurm". The lyrics to
Man Overboard
are known by most forty something Australians. "Your pubic hair upon my pillow" is the line - don't ask us what follows, other than the chorus of "What am I expected to do? Shout man overboard!" Nobody knows the rest of the lyrics. Nobody cares, really.
My tagline for today comes from her song,
Alive and Brilliant
. The lyrics are as follows.
One step forward
Two steps backward
I won't wrestle, you won't talk back
Three deeps breaths,
I'm still alive and brilliant
It's helping to keep me sane. It's that or shove the Arctic Monkeys on the iPod and crank up, "Mardy Bum". (Cos I'm....argumentative... and I've got the face on....)
There is the old favorite happy place to go to. This involves imagining a large bath tub, Clive Owen and a jar of nutella. I'd insert any other hot thirty/forty something, but Clive Owen is my faithful standby. He looks so filthy, throwing him in the bath is the only option. :oP
I also have to remind myself that too much nutella gives me migraines to not let myself go too far into the happy place.
But Mack came up with a cracker today which has kept me rather content.
Yesterday he had a picture of a hart (white deer)on his facebook page. We got talking about this. He said that this picture reminded him of times gone by - other other lives and other times. With Mack, you don't quite know if this means last year or five centuries ago - but this is a quandry for Mack to tell you about.
For me, this picture brought something up for me to ponder.
The Wilton Diptych.
Possibly my favorite painting on the planet.
Eh? You ask.
Imagine this. A cold winter's day in London in the early nineties. A girl in black opaque stockings, large black jumper, short skirt, Doc Martens and a scowl enters the Salisbury wing of the National Gallery. Her long, dark, wavy hair is a little damp from getting caught in a rainshower without an umbrella. She never carries an umbrella. Her glasses are foggy.
On embarking on the long staircase to the second floor, she has no idea what she will find. She just knows that she has a bit of a hankering for pre-1500's religious art work and the Sainsbury's Wing of the National Gallery has this in buckets.
Yes, this girl is a nerd.
Turning left, in a glass case in the middle of the first room on the left there is a small exhibit. A diptych. Or a two panelled painting with a hinge keeping both panels together. This one was allegedly a travelling altar piece. Both panels are about seventy centimetres high by forty centimetres wide.
And it is the most beautiful thing the girl has ever seen.
You've worked out I'm that girl. And I still never carry an umbrella. I get caught in the rain all the time. Love it.
Whenever I'm in London, I make sure I go and visit 'The Girlies'. When I was there in November last year, I dragged Lachlan, half-cut on too much beer, to go see them - then he dragged me to the other end of the gallery to look at a couple of Turners. Which were nice, but they don't really float my boat.
I could stare at the Wilton Diptych for days on end. In particular the eleven angels that surround the Virgin Mary. Knowing that this painting is made of a wooden board, the paints are pigments ground into egg yolk, the fact that the artist has been forgotten, the gilt work is incredible - the whole thing, in it's entirety, takes my breath away.
But on the back of the Diptych is the picture of a White Hart - a large deer, with it's neck in a crown, tethered to nothing by a thick gold chain.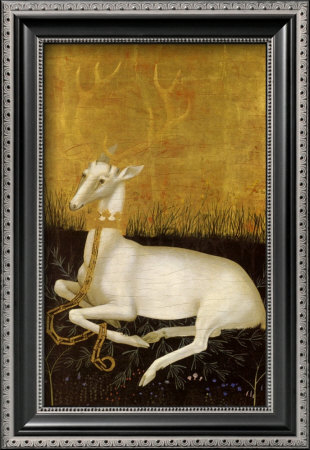 My quandry to think about as I'm avoiding these Training Needs Analysis documents - why is there a crown around the neck of the White Hart? How did it get on there? And why is it tethered not nothing - the chain runs free.
Amazing how something so throw away can keep you entertained for hours.